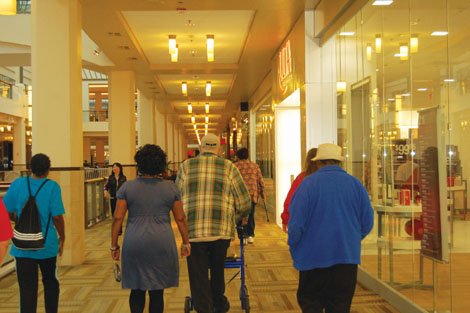 A group of seniors take part in a Meals on Wheels program designed to keep elders active called "Walk With Ease." Led by the Urban League of Portland's Multicultural Senior Center Director Arleta Christian, the participants, all aged 60+, strolled the halls of Lloyd Center Mall as part of a 6-week effort to increase their health.
Stories this photo appears in:

New program focuses on healthy habits
Seniors in Portland are getting active with a new program keep get elder citizens moving called Walk With Ease. The program, which was launched by Meals on Wheels People, aims to take a group of 10 to 12 walkers aged 60+ on two to three trips weekly. It debuted in seven other locations in April. The goal is to have participants work up to 45 minute walks. Each participant is provided with a journal to log their walking habits.