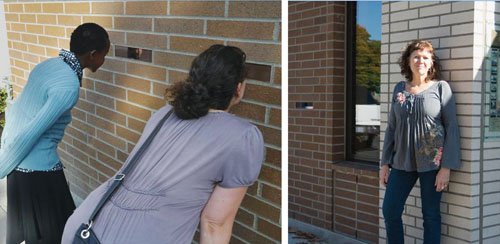 (left)Two passers-by take in the 'Jumptown Video Wall' at The Magnolia, a new housing complex on 3250 N.E. Martin Luther King Blvd. iPod Touch screens embedded between the bricks of the building scroll between images and video of the neighborhoods vibrant jazz scene of years past to present day reflections of the ever-changing neighborhood, Pamela Chipman (right) the creator of the wall stands in front of it; she says the "Jumptown Video Wall" was built on less than a $10,000 contract.
Stories this photo appears in:

Historic neighborhood flickers between the bricks
Blended into the façade of Innovative Housing's newest housing complex are literal lenses to Portland's African American history. Between the bricks at The Magnolia, 3250 N.E. Martin Luther King Jr. Blvd., are four iPod Touch units that run continuous loops of historical photos mixed with recent footage.