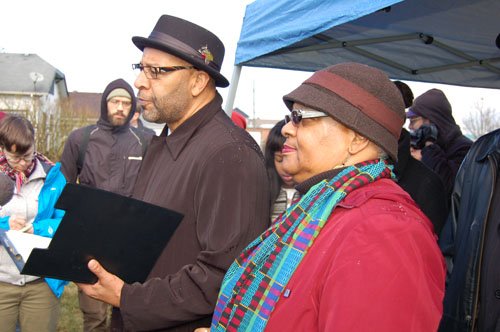 Portland African Leadership Forum leaders Tony Hopson and Former Sen. Avel Gordly address media and community members Monday at the site of a proposed Trader Joe's on the corner of Northeast Martin Luther King Jr. Boulevard and Alberta Street. The gathering took place just a couple of hours after the national retailer announced it pulled out of a deal with the Portland Development Commission and Majestic Realty Co. of Los Angeles to bring the specialty grocer to the heart of Portland's African American community.
Stories this photo appears in:

It's back to the table for PDC and the community
After Trader Joes decision to pull out of a deal that would have brought the specialty grocer to a prime piece of land in the heart of of Portland's historic African-American community, leaves the community, leaders, business owners, and the city questioning what is next for what has one of the most complicated and controversial sites in town.