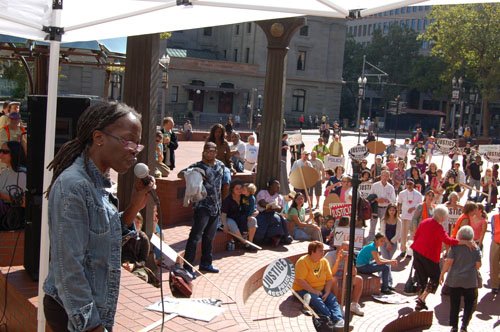 In this Portland Observer archives photo, Portland activist JoAnn Hardesty calls for police reforms during a 2010 rally for justice that was held after two local African Americans, Keaton Otis and Aaron Campbell were killed, during confrontations with Portland police.
Stories this photo appears in:

'Meet the Heat' Protest
In what sounded like an April Fool's joke but was in actuality a hosted event

Portland Activist follows path of Martin Luther King Jr.
Too many lives have been cut short by violent confrontations with Portland Police and a northeast Portland activist has made it her mission to reform police department policies to bring about a change in the way police deal with the public, especially members of the African American and other minority communities. JoAnn Hardesty is a former state lawmaker whose mission of justice is to prevent any further officer-involved deaths while also keeping those who've passed alive in the hearts of their loved ones and the community.