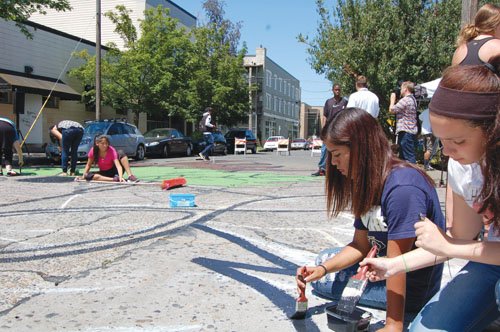 Promoting peace in the surrounding neighborhood and community at large, members of the young-adult Multnomah County program 'Striving to Reduce Youth Violence Everywhere' paint a mural Friday at the intersection of North Killingsworth Court and Borthwick Street. One block from Jefferson High School and next door to Rosemary Anderson High School and Piedmont Church, the mural depicts bees amongst the trees and a nest surrounded by the healing powers of honey; it's called the 'Big Bang of Peace.'
Stories this photo appears in:

Passerbys of the north Portland intersection of Killingworth Court and Borthwick Street will almost surely notice its newest instillation; a street mural of peace. Painted by members of the Multnomah County young-adult group Striving to Reduce Youth Violence Everywhere.