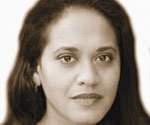 Sharda Sekaran is the managing director of communications for the Drug Policy Alliance.
Stories this photo appears in:

A historic moment and turning point
Fifteen years ago, when I first started working on drug policy and criminal justice reform issues, I never would have imagined these words coming out of the mouth of a sitting U.S. president. But then again, I would never have imagined Barack Obama.