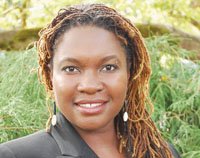 Nkenge Harmon Johnson
Stories this photo appears in:

Portland Urban League addresses police accountability and fight for black lives
Our hearts are broken again. We are angry and we are tired. Like all of you, we are sickened seeing Black people around our nation murdered with impunity at the hands of public employees and vicious racists.

Report finds success but more work ahead
Racial equality legislation moved at a record pace in Oregon last year, but more engagement will be needed to advance civil rights bills in the future, according to a new annual report by a coalition of racial and social justice organizations.

Demanding answers and accountability
Together with other community leaders and concerned citizens, I sent a letter to Attorney General Ellen Rosenblum, and other statewide- and locally elected officials on Tuesday, Nov. 10 calling for an immediate response to the Department of Justice's investigation of Oregonians who have used the social media hashtag "Black Lives Matter."