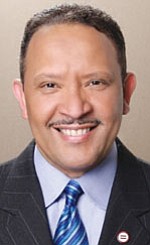 Marc H. Morial, CEO of the National Urban League, the nation's largest civil rights organization.
Stories this photo appears in:

A signal for large scale incarcerations
Twenty-four hours after the election of Donald Trump as this nation's 45th president, the stock prices of privately run prisons in this country soared. And this reversal of fortune came as no surprise to private prison operators—or criminal justice reform advocates. With Trump in the White House, privately owned prison companies rightly presumed that they had a staunch ally of their business model and motives in 1600 Pennsylvania Avenue.

A check on executive and legislative power
The United States Supreme Court has played an important role in the progress of the Civil Rights Movement. The executive and legislative branches of government have, at times, had to be prodded toward active reform of racial justice.