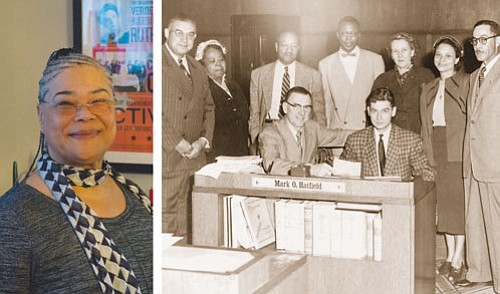 (From left to right) Charlotte Rutherford, a former civil rights attorney and the daughter of an historic Portland couple who worked tirelessly to outlaw discrimination and pass other civil rights protections during the Civil Rights Era, honors her late parents by helping preserve Portland's Black History. Photo by Zachary Senn/The Portland Observer Verdell and Otto Rutherford (far right) were among the leaders of Portland civil rights community in the 1940s and 1950s who worked with then-state Rep. Mark O. Hatfield to adopt Oregon's Public Accommodation Act, the 21st state in the union to pass legislation outlawing discrimination in public places. Photo courtesy Oregon Historical Society
Stories this photo appears in:

Daughter of pioneering civil rights couple keeps history alive
A snapshot of Portland's black history is being preserved at Portland State University, thanks to the efforts of the daughter of two of the city's most prominent civil rights leaders.