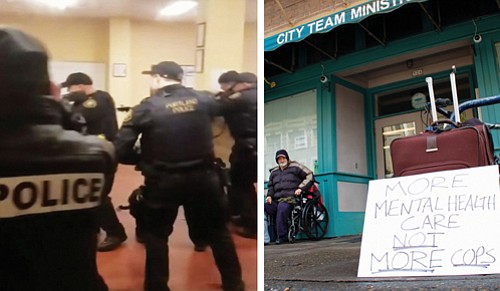 Cell phone video (left) from a bystander identified as Morgan Pickering and uploaded to Instagram captures police officers aiming their weapons at a man wielding a knife inside the City Team Ministries building in southeast Portland Saturday night. The sign "More Mental Care Not More Cops" (right) was posted by activists during a vigil Sunday night and remained in front of the shelter on Monday.
Stories this photo appears in:

Community in shock
A deadly police shooting of a 48-year-old man wielding a knife that occurred Saturday night at a homeless shelter holding an Alcoholics Anonymous meeting sent shockwaves through the community.