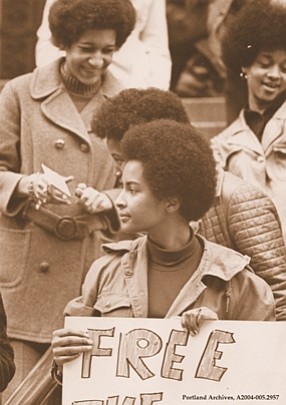 A photo from city of Portland archives and from an Oregon Black Pioneers exhibit opening at the Oregon Historical Society shows Sandra Ford of the Portland Black Panthers during a Feb. 14, 1970 demonstration at the U.S. Courthouse in support of repressed peoples.
Stories this photo appears in:

Black Pioneers share exhibit 'Racing to Change'
The Oregon Black Pioneers exhibit "Racing to Change: Oregon's Civil Rights Years," opens to the public on Monday, the Martin Luther King Jr. holiday, Jan. 15, at the Portland Historical Society, downtown.