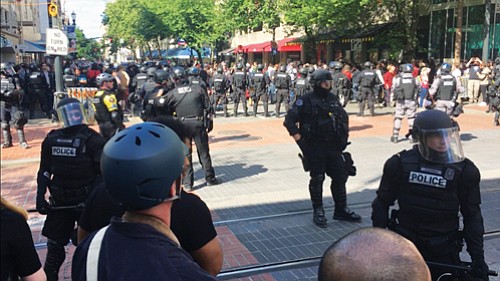 Portland police corral protestors for mass detainment during an anti-Trump demonstration last year, not allowing them to leave until they handed over their IDs and were photographed. The American Civil Liberties Union has been granted class action status to allow the nearly 400 people held during the June 4, 2017 protest to join an ACLU lawsuit which claimed the police action violated the Constitution for detaining people without cause.
Stories this photo appears in:

Mass detainment during protest not justified
A controversial mass detainment by Portland police of nearly 400 anti-Trump protestors at a demonstration in downtown Portland last year is now being hit on three sides for not being legally justified.