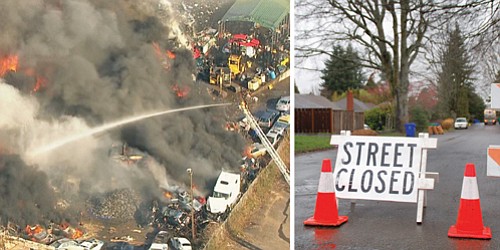 A KGW photo (left) shows firefighters dousing water on a huge fire that erupted at a scrap yard near Northeast 76th and Killingsworth Street Monday, sending toxic smoke throughout the city, destroying a nearby apartment and duplex, killing several pets and causing the evacuations of hundreds of residents.
Neighborhood streets (right) remained closed Tuesday.
Stories this photo appears in:

Scrap yard fire destroys homes; brings evacuations
A 5-alarm fire that started Monday morning at an auto salvage yard in the Cully Neighborhood spread to nearby houses, destroying a six unit apartment, a duplex, killing more than a dozen cats, and displacing an estimated 2,000 to 4,000 residents.