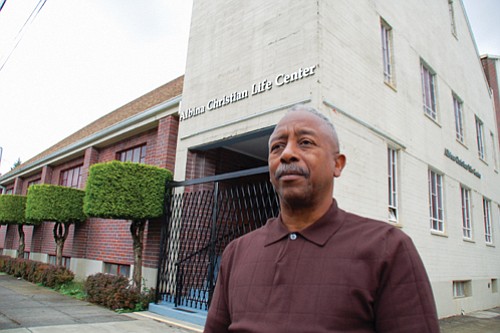 The Albina Christian Life Center in north Portland is one of a number of historically black churches in Portland that do not meet new earthquake safety standards, along with hundreds of other commercial buildings and several schools. Bishop Marcus Irving, pastor of the Albina center, says the cost to make $1 to $1.75 million in upgrades to the church would be difficult to obtain and fears that could trigger the city to condemn the church building or force it to close.
Stories this photo appears in:
Earthquake retrofits seen as next wave for displacements
A city-led effort to post and label some buildings in Portland as potentially unsafe during a major earthquake, the first step to requiring major and costly upgrades, is shaking up controversy with many African American community church leaders, among others, who say the unintended consequences of such a measure may lead to an undesired repetition of history: homes, businesses and non-profit organizations in traditional communities of color being displaced at the hands of the city.