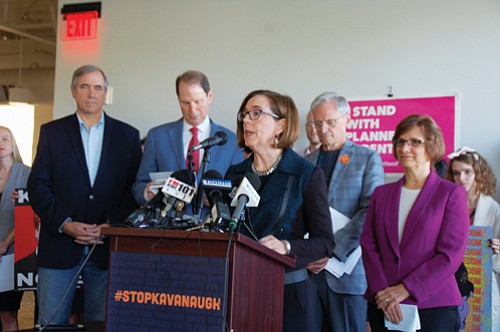 Gov. Kate Brown (center) speaks out against Supreme Court nominee Brett Kavanaugh during a rally Friday at Planned Parenthood in northeast Portland. Brown is among the group of Oregon Democratic leaders to oppose Kavanaugh, (including from left) U.S. Sens. Jeff Merkley and Ron Wyden, and U.S. Reps. Earl Blumenauer and Suzanne Bonamici.
Stories this photo appears in:
Unity at Planned Parenthood
Gov. Kate Brown and most of Oregon's congressional delegation has joined reproductive rights leaders in the state to speak out against confirming Supreme Court nominee Brett Kavanaugh in the U.S. Senate, even as national Senate Republicans press for a swift vote confirming him to a life time position on the highest court.