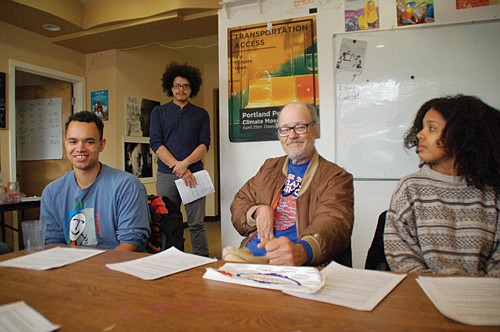 Community leaders with Bus Riders Unite and OPAL Environmental Justice train volunteers in de-escalation techniques Saturday in southeast Portland to get them ready to become unofficial transit rider advocates on TriMet buses and trains. Pictured (from left) are first-time volunteer Arius King, de-escalation training facilitator Tristan Isaac, OPAL volunteer Keith Scholz and OPAL staff member Janaira Ramirez.
Stories this photo appears in:

Ad hoc 'rider advocates' push TriMet to act
A grassroots effort to bring back civilian volunteers on public transit to help de-escalate conflicts and provide information and support to riders is currently in an unofficial prototype phase, thanks to OPAL—a civil rights and environmental justice organization which stands for "Organizing People, Activating Leaders"—and a bus riders union called Bus Riders Unite.