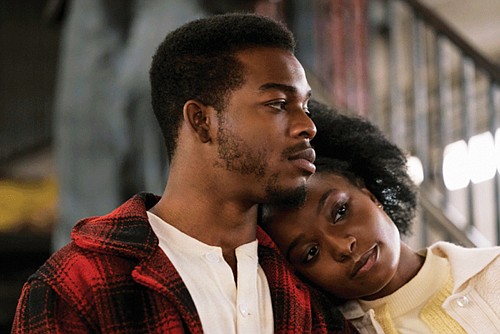 Stephan James and Kiki Lane star as a young couple relying on their love to sustain them through unspeakable hardships in "If Beale Street Could Talk."
Stories this photo appears in:

As usual, the more than 150 films I saw this year includes all of those that populate most critics' top 10 lists. My own list of the year's best films includes some overlap--but once again five of the films on my list were virtually unrecognized by critics.

Love survives hardships in top film from 2018
a broken heart is the only appropriate response to this story of two young people, Fonny and Tish, who have only love to sustain them through unspeakable hardships that are thrust upon them, as they are upon black people in America to this day. Their love is what grounds the story because it is so clearly what enables the young lovers to withstand, without entirely breaking, the blows that would and do break many others--the daily indignities, the violations of their bodies, the constant messages that, as Tish explains, black people receive from childhood--"that they weren't worth shit--and everything around them proved it."