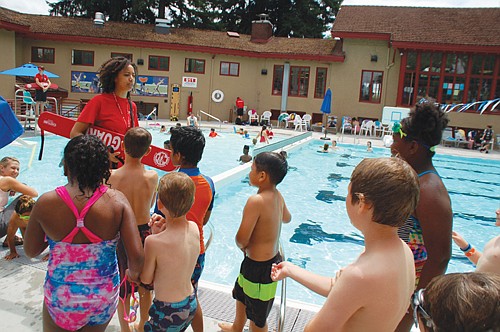 A lifeguard has some tips for young swimmers on how to complete the "swim test" to use the deep end on the first day of operations Monday at the new Peninsula Pool. The historically multicultural hub at North Rosa Parks Way and Albina Avenue will officially celebrate its recently completed pool reconstruction with a free grand reopening and pool party on Thursday, July 18 featuring free swimming, cake, and more.
Stories this photo appears in:

New pool at Peninsula Park expands capacity
To celebrate the reconstruction of north Portland's popular Peninsula Pool -- which reopened Monday -- Portland Parks and Recreation is inviting the community to a grand reopening celebration and pool party featuring free swimming, cake, a synchronized swimming performance, and other activities, coming Thursday July 18, from 12 p.m. to 3 p.m. at 700 N. Rosa Parks Way.