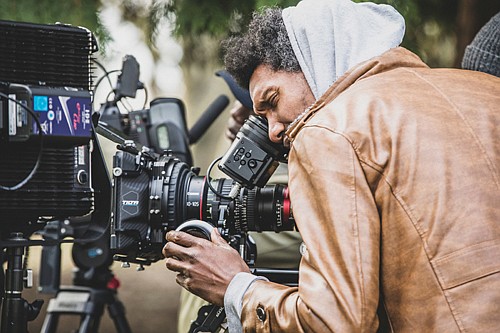 Portland filmmaker Ifanyi Bell behind the lens. The executive producer of Open Signal Labs on Northeast Martin Luther King Jr. Boulevard spearheaded a unique black filmmaker incubator program for the nonprofit community media organization, which will screen six film projects made by local black filmmakers this Friday at 7 p.m. at the Hollywood Theatre.
Stories this photo appears in:

New black filmmakers celebrate
Black and women filmmakers, who are sorely underrepresented nationwide in the television and movie industries, were the focus of a yearlong fellowship for filmmakers of color at Open Signal Labs, the nonprofit community media organization in northeast Portland. Now the culmination of their work will be shared with film screenings and an after party celebration this Friday starting at 7 p.m. at Hollywood Theatre in northeast Portland.