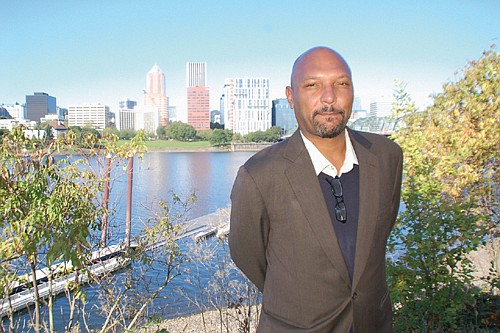 Mingus Mapps, a public policy consultant and former employee in Portland's Office of Civic Life, has defeated his former boss City Commissioner Chloe Eudaly, in Tuesday's General Election.
Stories this photo appears in:

In Gresham, first Black mayor wins
Mingus Mapps captured a seat on the Portland City Council in Tuesday's General Election, which will make him the third person of color, a new majority on the five-member panel, when he takes office in January.

First Latino elected to City Council; two black candidates advance
A prominent member of the Latino community won a historic victory for a seat on the Portland City Council Tuesday and two black candidates advance in runoff elections for city commissioner this August and November, giving city government another chance to grow even more diverse in its representation of the city.

Candidate opposes former boss and code change push
A proposed change to city code by City Commissioner Chloe Eudaly to lessen the power of neighborhood associations to better serve diverse and underserved populations has become a contentious issue. One of Eudaly's chief critics is her former employee, public policy consultant Mingus Mapps, who plans to run for her seat.