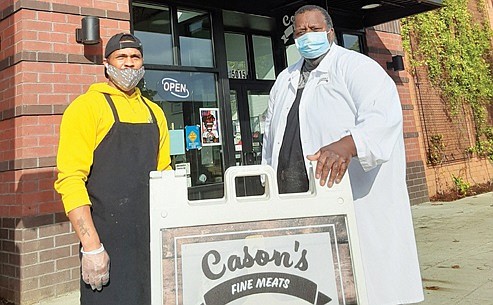 Journeyman butcher Theotis Cason (right) and his assistant Barry Williams welcome customers to Cason's Fine Meats, the Black-owned retail store for locally-sourced high quality meats and hard-to-find Southern staples. Casons is situated among other minority and women-owned businesses in the new Alberta Commons complex at Northeast Martin Luther King Jr. Boulevard and Alberta Street.
Stories this photo appears in:

Casons serves up a legacy of quality
His locally-sourced meats which include hard-to-find Southern staples such as oxtails and neck bones, along with more traditional meats such as country style ribs and sausage links are all anti-biotic and chemical free — a source of pride for the journeyman butcher.